Mrauk U Kingdom Late Phase – Introduction
The Mrauk U Kingdom late phase began in about 1600 at the end of Min Phaloung's reign (1571-1593) and the beginning of King Kamoung's. King Thiri Thudhamma reigned next and then his son, King Okkalapa. This period's temple and monument construction includes Laung-Pan-Prauk, Ratana Pon, and Mingala-Manaung and Sakya Manaung and others. I was there in 2011; this historical phase went from about 1600 to Mrauk U Kingdom's defeat in 1784. For the Mrauk U Kingdom and Arakan, this was considered the last unified Arakanese kingdom.
The architecture of this was more influenced by Burmese architecture from Burma proper, especially Mon architecture of Pegu and Dagon (Yangon). Stylistically, this meant low relief carving using either stone or stucco, depending on what was available. These carvings are mostly seen at the entrances to shrines and crowned by pediments ornately crowned and with guardians protecting the shrines. Some are similar to Pitaka-taik library with entire walls covered with complex geometric carvings into the stone.
Laung Pan Prauk
Laung Pan Prauk Ceti or pagoda (or Laung Bwann Brauk Ceti as shown above), was built in 1525 by King Min Khaung Raza, according to this headstone in front of the pagoda. One hundred years later, in 1625, Thirithudhama is thought to have restored this temple to its current style, which puts it into the Mrauk U Kingdom Late Phase architecture.
It's referred also to as the "Colored Tile" pagoda because of the deep blue, red, yellow and green opaque glazed tiles covering the stone wall around the structure.
The pagoda monument was built of large sandstones and stands 75 feet tall. The first tier has eight faces where an image of the Buddha lived inside a niche there. Uppermost on the pediment may look like a naga, but it is the peacock's chest, said to be the crowning element of the royal throne. [Gutman, Pamela – 2001, Burma's Lost Kingdoms: Splendours of Arakan, Orchid Press, Bangkok]
Ratana Pon Ceti (Pagoda)
King Kamoung and his queen, in 1612, is credited with this monument. A hoard of gold, jewels and image is said to be buried within its very structure, but no one and no physical disaster such as earthquakes have managed to set it loose. What is here now is this solid sandstone block stupa. Ratana pon stupa is orthogonal on the ground. From there it rises in concentric tiers with an inverted bell on the third tier.  These manaungs, or pagodas, are still in active use today evidenced by all of the practitioners we came across and people living in the area.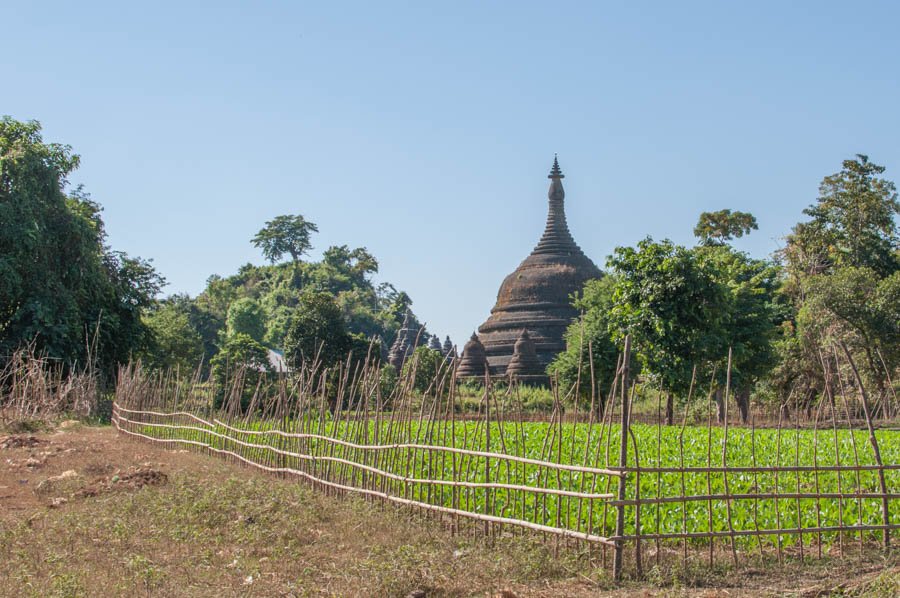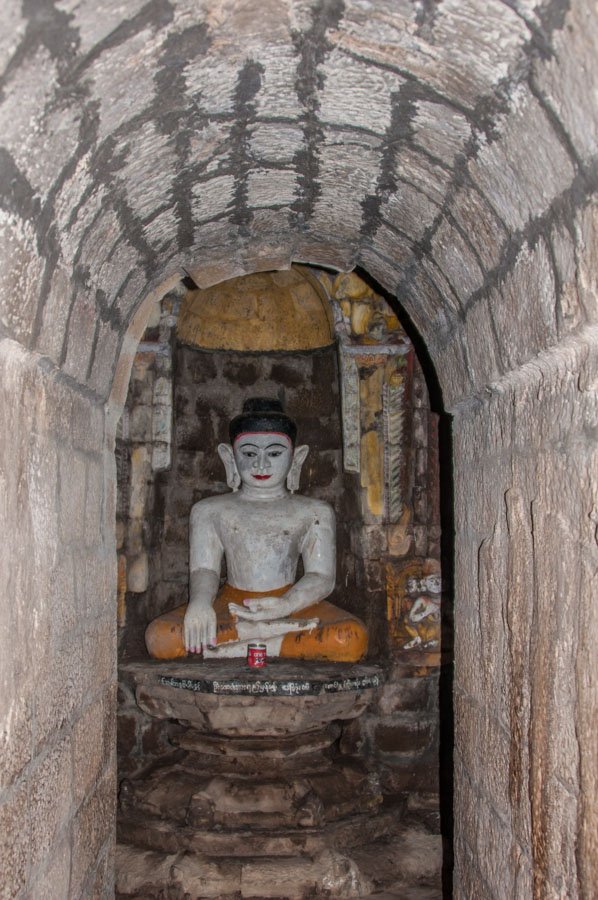 Mingala Manaung
King Okkalapa, the son of King Thadhamma (or Thiridhamma) build Mingala Manaung (or Mongala Mar-aung) in 1685, situated north of the Mingala Gate. This is another conical pagoda typical of Mrauk U Kingdom late phase architecture. The structure is built out of sandstone blocks and fenced with stone walls. An ordination hall was built at what is considered the old site where there was originally a large ordination hall. Broken pieces of sculpture are still found scattered around. [Famous Monuments of Mrauk U, Myar Aung, 2007, only available locally]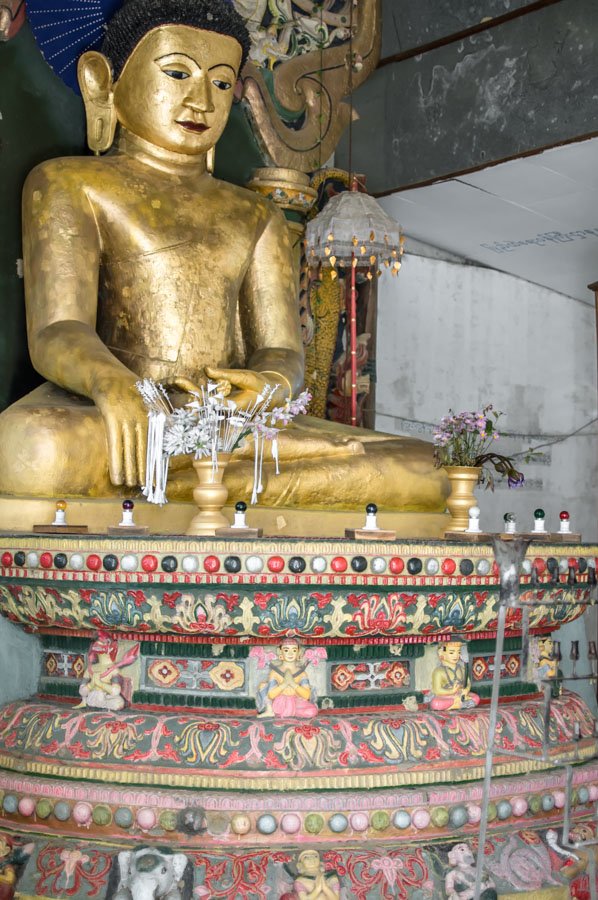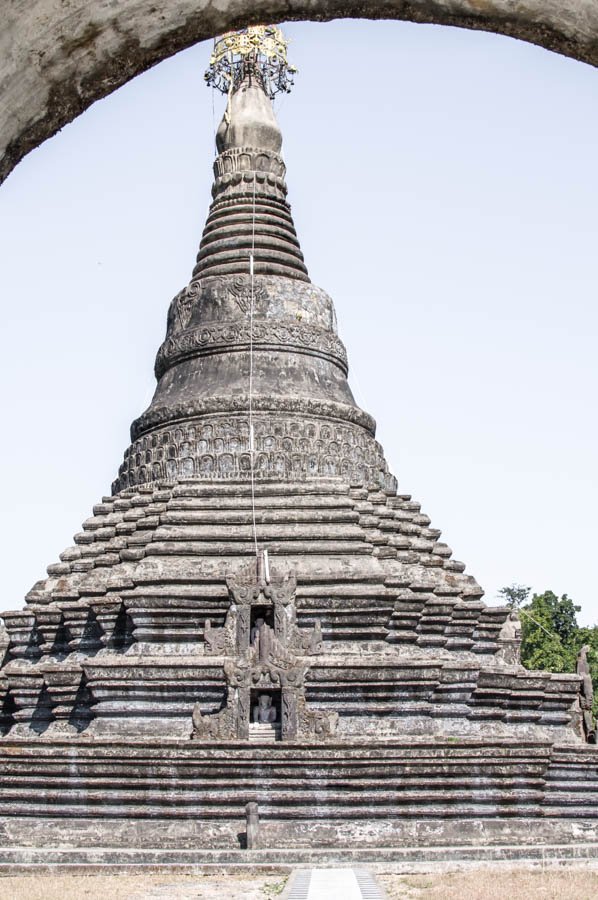 Sakya Manaung
Sakya Manaung (Sakya Mar-aung) Pagoda was built in 1629 by King Thiri Thudhamma Raza. It was named to commemorate the successful reigns of the royal Sakya clan. Two stone figures of ogres stand guard on both sides of the western gate. In the photo I took, these two young boys were having a marvelous time getting their pictures taken by me.
The plinth was designed to look like the pagoda was flowering from a beautiful lotus base, which is the base of the structure itself. Twelve satellite pagodas surround the main pagoda each with an ordination hall at its corner.